Without an SD card slot, transferring saves is impossible on the Wii Mini.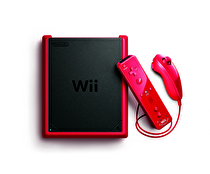 The Wii Mini will not support SD cards, Nintendo of Canada has confirmed to us.
Without an SD card slot, the Wii Mini is incapable of importing or exporting saves. It was known that the Wii Mini would not be able to take part in the Wii U transfer process due to its lack of internet functionality, but now we know you cannot transfer saves by swapping SD cards with its successor. On a standard Wii, players could copy and move save files and downloaded software between system memory and the inserted SD card.
Nintendo of Canada's Matt Ryan also detailed the difference between the Wii Mini and Wii U markets this holiday season, "... they are two very different products for a different type of player. It really depends on the experience that players want and their preferred investment in their gaming console. If a player just wants to play Wii games, Wii mini is a great choice at a great price. If the player wants more from their system, Wii U is the latest innovation of fun from Nintendo."
The Wii Mini is Nintendo's recent redesign of the Wii console that has no internet functionality or GameCube compatibility. It will be available on Canadian store shelves December 7, and will retail for $99.99.