A puzzler to tentakill some time with.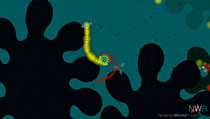 Art Style: Rotozoa is the latest reward offered through Club Nintendo, and can be claimed for 100 Coins.
Developed by Skip Ltd., Art Style: Rotozoa plunges players into the murky depths. Using the Wii Remote's D-Pad, steer a tentacled, amoeba-like creature and capture surrounding organisms. The tentacles of your character are colored, and progress is made by having them make contact with organisms of the same color. Difficulty comes from moving through the environment without your enlarged appendages touching inappropriate creatures.
Art Style: Rotozoa joins the 3DS eShop's Mario's Picross as a Club Nintendo reward, and is available until November 25.