Check out the first details on the Wii U eShop straight out of Japan.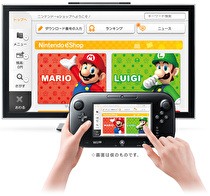 The Wii U eShop, available in an update when the system launches, will feature game demos and HD videos, according to Nintendo Co., Ltd.'s official website.
It is unclear if every game will have a demo, but the page does say that demos will be available. The HD-quality videos and images will also be on the eShop, highlighting different games. Those videos and images can be viewed on the GamePad.
On game pages on the eShop, you can see how players rated the game, similar to the 3DS eShop's five-star system, and you can also check Miiverse comments related to the game.
The site also mentions that downloadable content can be purchased in the store while software is running. So, if you're playing Assassin's Creed III and want to download the DLC pack, you can just boot up the eShop and download away.
Players will be able to search information based on details like classification and other keywords. The listing makes a mention of rankings, though no further details were given.
Outside of those distinctions, the Wii U eShop seems to have a lot in common with the 3DS eShop, as players use the same methods to purchase games and the two-screen display is similar to the layout of the 3DS.