Not everything will be available out of box.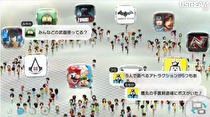 Features such as Miiverse, Nintendo TVii, Nintendo eShop, and Wii U Chat will be unavailable on the Wii U until users install an update, which will be made available on launch day.
Systems that are currently out there lack these features, but will have access to them soon. Whether this day-one update will also come with other surprises is currently unknown.
The Wii U and this patch will both be released on November 18 in North America.