The game will not feature 1080p visuals as previously thought.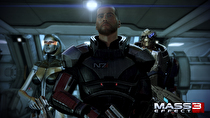 Mass Effect 3 will be rendered in 720p on Wii U, according to the Australian developer Straight Right who are developing the Wii U version.
It was recently reported in Nintendo Power that the Wii U edition of Mass Effect 3 would feature 1080p visuals. The CEO of Straight Right, Tom Crago, has told NWR that, "The game will run at 720p."
Stay tuned for more information about Mass Effect 3 in the near future.