Update: The game will actually run in 720p.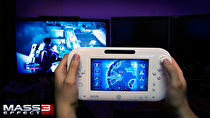 Update: The Wii U version of the game will be rendered at 720p. Check out our updated report
For the first time on a home console, Mass Effect 3 will run in full 1080p resolution, according to September's Nintendo Power, issue V282.
The article has also re-confirmed that the extended cut of the ending sequence and other various DLC characters and weapons for the four player online co-op mode will also be included on the disk.
Mass Effect 3 for the Wii U is currently scheduled to release alongside the Wii U at launch.