The famed Nintendo creator's 1997 puzzle game is the newest addition to 8-Bit Summer.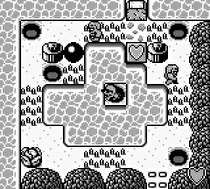 Mole Mania, a 1997 Game Boy game worked on by Shigeru Miyamoto, is coming to the 3DS Virtual Console tomorrow, according to Nintendo of America.
Mole Mania is part of Nintendo of America's 8-Bit Summer initiative, which began at the beginning of July. It is a puzzle game in which Muddy Mole must save his family from an evil farmer by maneuvering a black ball from screen to screen. It originally came out in Japan in 1996, and is one of Miyamoto's least known games.
Working with Miyamoto was Pax Softnica, a development studio that made Balloon Kid and Wave Race for the Game Boy prior to Mole Mania, and later worked with HAL Laboratory on Pokémon Snap. They also worked on the first two Mother/Earthbound games.
In addition to Mole Mania, Wario Land: Super Mario Land 3 is also coming out tomorrow.