A new, slightly-less-bashful Boo will try to spook Mario and Luigi.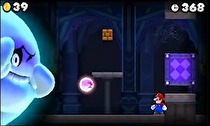 Boohemoth is a new enemy in New Super Mario Bros. 2 that represents the designer's wishes to capture a sense of something unusual.
The character changes up the Boo formula by sneaking after Mario even when he faces it. In past games, Boos would chase Mario when his back was turned, and then cover their faces when he turned around. Boohemoth, on the other hand, will be shy, and then slowly crawl forward.
The Japanese name for Boo is Teresa, which comes from the Japanese word tereru, which means to be bashful.