Also, Global President Satoru Iwata admits to not talking about future first-party projects due to fears of being copied.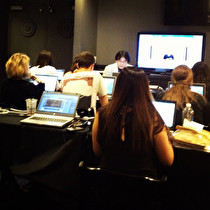 Asked directly about whether consumers could understand what made the Wii U a desirable purchase, Nintendo Global President Satoru Iwata said the company was still working on the issue.
"Even here at the E3 show, I would say that the way we introduced [the Wii U's] unique game play hasn't been absolutely perfect, " Iwata said at the company's E3 analyst event last week, "we do have people who have responded very positively to the Wii U, we also have some who are still somewhat skeptical of it."
Nintendo will be examining what worked and what didn't so it can apply those lessons "for the time when we do announce the launch details, such as the launch price and the launch date," according to Nintendo of America President Reggie Fils-Aime.
One thing the company still seems reticent to do, however, is talk about its game projects beyond the Wii U's launch and the several months following. Iwata admitted that both he and legendary game designer Shigeru Miyamoto are at work on new and existing franchises for the Wii U, but since "similar proposals can be made by the others just one year after," Iwata asked that analysts "please understand that we really can't say much about what else we are planning."