The creative director claims that it happened out of coincidence.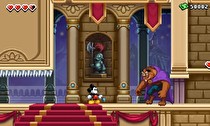 DreamRift's involvement in Epic Mickey: Power of Illusion was the result of "everything [aligning] more perfectly than we could have imagined," said Creative Director Peter Ong in an interview with NintendoLife.
The involvement with the studio started after finishing Monster Tale, and the studio was interested in the idea of creating a 3DS game where the player could paint or draw objects on the bottom screen, which would "then change into beautiful images that become an interactive part of a game-play environment." After this, DreamRift, who also made Henry Hatsworth, began talking to different publishers, like Disney Interactive, who the studio had a "great relationship with."
Coincidentally, Disney was already interested in bringing Epic Mickey to 3DS, with top priorities going towards creating a high quality game and a unique experience unlike the console versions.
As it turns out, "the central mechanic that we had been prototyping was a great fit already for the idea of bringing Disney Epic Mickey to the 3DS, since in the console version, the core mechanic involves empowering the audience to control Mickey and paint objects into reality within your interactive environment."