The Castle of Illusion roots go deeper than you think.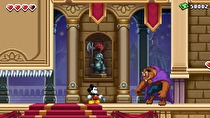 Details regarding Disney Epic Mickey: Power of Illusion were revealed by Junction Point Studios Creative Director Warren Spector at the European Nintendo Direct.
During the presentation, Spector noted that the gameplay focuses not just on platforming, but also paint and thinner mechanics. He also described the gameplay as a fusion between Castle of Illusion and the original Epic Mickey game, despite looking more like the former.
The plot of the game is that the evil witch Queen Mizrabel (Castle of Illusion's villain) gets trapped in Wasteland and is eager to escape. Since her powers and castle are intact, she tries to capture popular Disney characters and steal their "Cartoon Essence," to take their popularity and give it to herself. Mickey Mouse teams up with Oswald the Lucky Rabbit and other Disney characters to free the trapped characters and defeat Mizrabel.
Epic Mickey: Power of Illusion releases this fall on 3DS.