Specific details of how the tablet controller will be used revealed on developer's website.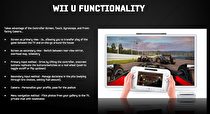 A PDF document on UK developer Slightly Mad's website revealed details on how the unique functions of the Wii U controller will be fully utilised for this version of the game
First of all, the game will be fully playable on just the controller for "on-the-go, around the house" play. However the main control set up will utilize tilt-based steering, with the controller screen showing switches and buttons usually found on a traditional racing wheel. In addition to that, the controller screen can be toggled between a rear-view mirror, overhead map, and telemetry, presumedly showing statistics of your lap times and other technical data.
When the car goes into a pit lane, the screen will also allow for quick selection of tires and fuel amount by swiping the screen.The camera will also be used, not only for your profile photograph but for capturing players faces after winning a race, possibly not dissimilar to how Star Fox 64 3D does in multiplayer. Photos can also be shared by flicking them to the TV screen, a system feature previously shown during the E3 2011 conference with YouTube videos. Lastly "private chat" will be accessible on the controller too, whether this is text-based chat or full voice chat (or both), is not clear.
There is currently no release date set for Project CARS, but we expect to see more details emerge during E3, which starts on June 5.