The DreamRift-developed platformer will make use of the stylus, feature classic characters, and show off wonderful parallax backgrounds in 3D.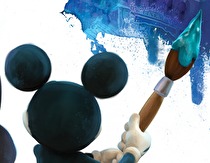 Epic Mickey: Power of Illusion, developed by Monster Tale and Henry Hatsworth developer DreamRift, is actually a sequel of sorts to two different games: Epic Mickey, the 2010 Wii release, and Castle of Illusion, a 1990 Sega Genesis title.
The latest issue of Nintendo Power reveals the game, and the ensuing coverage details the game's mechanics. It is a platformer with 2D sprites and multiple layers of parallax that features a lot of stylus usage. The paint/thinner concept from Epic Mickey carries over, as you'll be able to use the stylus to draw items that will alter the world. For example, you might draw a platform into existence so you can jump to another area. Depending on your quality of drawing, the item will be more or less effective. You can erase items, as well.
Each level is based off of an animated Disney movie, ranging from Tangled to Peter Pan, and as you go throughout the game, you save different characters, such as Scrooge McDuck and Peter Pan. Additionally, Oswald the Lucky Rabbit and Minnie will appear in the game. The villain of the game is Queen Grimhilde, better known as the witch from Snow White, who was the bad guy in Castle of Illusion.
Epic Mickey: Power of Illusion is set for a fall 2012 release.