Check out some images showing off some of the game's awesome environments.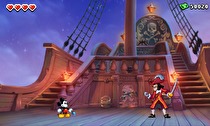 Along with a press release that reconfirmed Disney Epic Mickey: Power of Illusion is heading the 3DS this fall, Disney revealed some screens of the game.

The new screens show off characters like Beast, Peter Pan, and Captain Hook.
View the screens below to see Mickey in the new adventure.