Taking place during the American Revolution, the Assassin's Creed mainline series makes its debut on Nintendo consoles.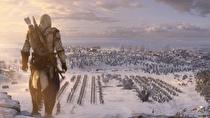 Development of Assassin's Creed III for Wii U is underway, according to Ubisoft. However, there is no confirmed release date. The other versions are set for an October 30 release.
The game's debut trailer showed off the new American Revolution-era hero in action in the year 1777. Named Ratohnhaké:ton (or Connor, for simplicity's sake), he is a Native American warrior fighting to protect his land and his people. In more direct terms, he's pro-Americans, and anti-British, as the trailer shows him giving a few British redcoats an axe to the face.
Assassin's Creed III is running on a brand-new engine, dubbed Ubisoft-AnvilNext, which promises better AI, graphical quality, and character models.
This isn't the first time the series has appeared on a Nintendo platform, as there were two spin-offs released on the DS around the release of Assassin's Creed 1 and 2. A 3DS game was planned, but it was cancelled and reworked to become 2011's Assassin's Creed: Revelations.
Game Informer's upcoming cover story is focused on Assassin's Creed III, and it will have more details when it hits newsstands soon.