Are we about to discover everything about the series that we've held dear for 25 years? UPDATE: Confirmed!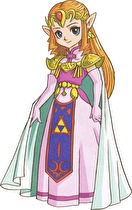 The official timeline for The Legend of Zelda series might be revealed, thanks to a fan translation of the recently released Hyrule Historia book. Update: We've confirmed the timeline is indeed in the book.
We don't know all the details at the moment, but if true, the timeline is even more complex than usually imagined, featuring a trio of alternatives after Ocarina of Time. Nintendo has always been secretive about the franchise's anthology, so to give it all away in this one book is a huge surprise. You can find the rumoured timeline below. We will continue to follow the story as it develops.
Main Timeline
1. Skyward Sword
2. The Minish Cap
3. Four Swords
4. Ocarina of Time

Split 1: Link defeats Ganon - childhood branch
1. Majora's Mask
2. Twilight Princess
3. Four Swords Adventures

Split 2: Link defeats Ganon - adult branch
1. The Wind Waker
2. Phantom Hourglass
3. Spirit Tracks

Split 3: Link fails in Ocarina Of Time
1. A Link to the Past
2. Oracles of Seasons and Ages
3. Link's Awakening
4. The Legend of Zelda
5. Zelda II