You can now read the first few pages in English.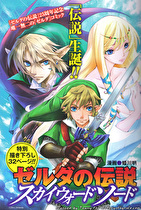 GlitterBerri has translated part of the The Legend of Zelda: Skyward Sword manga.
If you head over to the GlitterBerri website you can read the first 15 pages. This is only about half of the entire manga. The remaining pages of the manga will likely be translated soon and updated on GlitterBerri's website. The blog also includes a number of translated scans from Hyrule Historia.