European Zelda fans are getting spoiled by Nintendo's newest holiday bundle.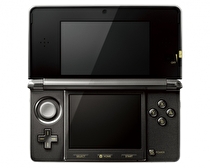 Nintendo of Europe has revealed a special 3DS bundle for the 25th Anniversary of The Legend of Zelda.
The bundle, called The Legend of Zelda 25th Anniversary Limited Edition Nintendo 3DS, offers a Cosmic Black version of the system with Hyrulian logos, borders and color schemes all spread across. They go as far as adding the color scheme to the 3D depth slider and the touch buttons. The package also comes with a copy of The Legend of Zelda: Ocarina of Time 3D, which here uses the American box art instead of the fancy European one.
The Zelda 25th Anniversary Nintendo 3DS is scheduled for release on November 25.