Nintendo opens a window to the land of Link in Redwood City.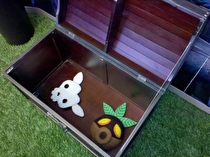 Last year, Nintendo had i-am-8-bit come to their Redwood City offices to decorate their game demo room with a Kirby's Epic Yarn motif. A year later, the felt was feeling the force of gravity and the room was beginning to droop.
With the launch of The Legend of Zelda: Skyward Sword and the series' 25th anniversary, Nintendo had i-am-8-bit return to redecorate. The result is a mix of spectacular whole-wall paintings depicting day and night scenes and three dimensional crafts, such as potions, fairies in bottles, and a mask-filled chest. How would you like some stuffed rupees to accessorize your couch? They even covered the floor with artificial turf! Check out their handiwork in the gallery below.