A post on Nintendo's official Facebook page will disappoint participants in the Operation Rainfall campaign.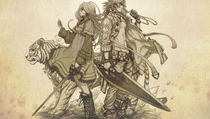 Xenoblade Chronicles, The Last Story, and Pandora's Tower aren't coming to North America. After a short period of silence, Nintendo followed up on their promise to comment on the efforts of fans to convince them to release the trio of Wii titles with a posting on their official Facebook page.
"Thank you for your enthusiasm. We promised an update, so here it is. We never say 'never,' but we can confirm that there are no plans to bring these three games to the Americas at this time. Thanks so much for your passion, and for being such great fans!"
This response comes as a major disappointment to fans who have been attempting to convince Nintendo of America via a campaign of letter writing, emails, Facebook posts, tweets, and even pre-orders that they collectively dubbed "Operation Rainfall." Their efforts garnered significant media coverage, even in Japan. Despite Nintendo's acknowledgement of their efforts, so far they seem to have been unsuccessful. Operation Rainfall will continue with a targeted letter campaign set to span the month of July.
This news came only one day after Nintendo of Europe announced a September 2 release date and a special Classic Controller Pro bundle for game. This also follows last week's news that not only would Europe be getting Xenoblade Chronicles, but the region will also get Mistwalker's The Last Story.