You'll be able to buy the compilation in stores, and it's got new special features.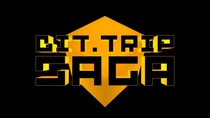 NWR has just learned from developer Gaijin Games that there will also be a Wii retail version of Bit.Trip Saga, which is intended to be the "ultimate version" of these games for true fans. The Bit.Trip series of games was originally released one at a time on WiiWare. Since then, a few of the games have been ported to iOS, and a previously announced Nintendo 3DS compilation is coming in late summer.
In addition to combining the six original games in one package, the Wii disc version will have a number of extra features, some not even found in the 3DS version (which will, to be fair, include 3D effects, portability, and touch screen controls for some of the games). The console compilation will have an art gallery, video gallery, and audio gallery, plus a special text message/commentary from creator Alex Neuse of Gaijin Games on each of the titles. More importantly, there will be new difficulty levels for each game. The biggest addition is a set of 120 new challenge levels, made up of 20 for each of the six games in the set. These will demand absolute perfection from the player, but they are kept short (possibly very short) to avoid frustration.
Both Wii and 3DS versions of Saga will be launched around the same time, in late summer 2011. They are definitely retail products, but pricing is still under discussion. Of course, you can still download the six original games and, in some cases, free demos in the Wii Shop Channel. We'll have hands-on impressions and video of the 3DS version soon!