Commander Video's entire story will be retold on the 3D handheld.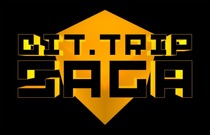 All six of Gaijin Games' Bit.Trip games will be released in an enhanced compilation on the 3DS.
The package will include Beat, Core, Fate, Flux, Runner and Void. Each one features a unique gameplay concept fused with rhythm action that makes use of the series' chiptune based soundtrack.
All games will retain their respective features. In addition, they will feature 3D visuals courtesy of the system's glasses-free 3D screen.
A release date for the collection hasn't been revealed at this time.