Players will not have to shake the control to the rhythm in this latest iteration of Rhythm Heaven.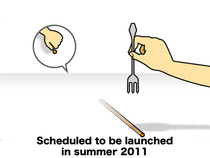 Rhythm Heaven Wii (known as Rhythm Paradise in Japan) will be playable only with buttons, not with motion controls, according to Nintendo President Satoru Iwata at today's Financial Results Briefing.
Nintendo did not previously confirm how the game, which was revealed in January, would control up until this point. Iwata explained that "We have sharpened such different attraction of both titles that we believe that you can have a totally different kind of fun."
The concept behind the Rhythm Heaven games is that players participate in events in which their rhythm and timing skills are tested. While the series has been around for years in Japan, debuting on Game Boy Advance, North America received Rhythm Heaven for the DS in 2009.
Rhythm Heaven Wii has been set for a summer release in Japan. There is no word on whether or not the game will be released overseas.