Outside developers took Nintendo-made experiments and made them into "promising prototype" games.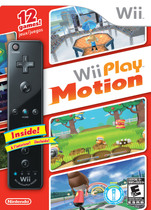 The development process for Wii Play: Motion, called Wii Remote Plus Variety in Japan, used multiple developers competitively creating the included games, according to Nintendo President Satoru Iwata in the company's recent Financial Results Briefing.
"The development process was very unique," Iwata said. "We collected some good ideas of utilizing Wii Remote Plus from [developers], we asked [developers] to complete a promising prototype game that we had created in-house in the experimental stage, and our in-house development team even helped with some development."
Wii Play: Motion will include 12 games when it is released. So far, none of the developers who worked on the title have been revealed, but Iwata did say that Nintendo is "going to disclose the development process of each distinctive game in the future."
The game is due out on June 13 in North America, the European release will happen at some time after June, and the Japanese release is set for July.