Update to the new firmware next month and Excitebike will be free on the eShop in Japan.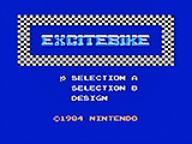 Excitebike will be among the first games to be released as part of the 3DS Classics on the Nintendo 3DS eShop for Japan when the service launches in late May. These games are classic Nintendo releases enhanced for the 3DS. The NES title will be available free of charge following the long-awaited firmware update next month, which is set to make several 3DS features available including 3DS Virtual Console.
The announcement was made at Nintendo's recent Investors Briefing for the fiscal year 2010 to 2011. Nintendo also confirmed that the first 3DS Virtual Console games will be for Game Boy and Game Boy Color, with other platforms to follow.