Make sure you stretch before jumping, dancing, kicking or diving on this deal.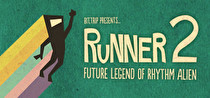 Bit Trip Presents: Runner 2 Future Legend of Rhythm Alien is on sale for all platforms for $4.99, $10 off the regular price.
Developer/publisher Gaijin Games announced the sale as a celebration of the game's one year anniversary. Since releasing on February 26, 2013 in NA for the Nintendo Wii U, Runner 2 has reached over a million copies sold worldwide.
Runner 2 is a challenging rhythm-platformer where players are constantly on the move, quickly performing simple actions to avoid obstacles and enemies. Runner 2 has a new modernized art style compared to its predecessor, and features optional checkpoints within each level.
Runner 2 is available on the Nintendo Wii U eShop. The sale will last for a "limited-time".