The news today isn't a revelation.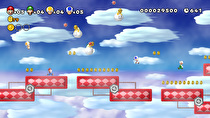 Today started off with a bang, as a new Mario game was revealed for Wii U! Yay!
Wait. Didn't we already know that? Like, didn't Aaron play that game at E3 last year? The official line from Nintendo is that the E3 2011 demos were just "Wii U experiences," but New Super Mario Bros. Mii seemed a like a pretty full-featured experience and concept, especially when compared to the snippets of gameplay from the other demos.
The news even highlights how the new Mario Wii U game will make use of the tablet controller in interesting ways. I can assume they mean it will be used like it was at E3 last year, when they showed off how you could turn off the television and just play the game on the tablet controller.
Maybe the game will get a name change. There is, after all, the recently registered www.supermario4.com fresh on everyone's minds, though that's likely just for domain squatter protection. However, I'll be shocked if, come E3 2012, New Super Mario Bros. Mii isn't the Mario Wii U title hinted at right now.
And who knows, maybe that Wii U game will go hand-in-hand with the side-scrolling Mario 3DS title that is due out by the end of March 2013.