There is no official word on whether this has anything to do with New Super Mario Bros. Mii.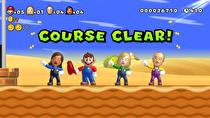 A new Super Mario game will be announced at this year's E3, as reported by Spanish newspaper El Mundo and later confirmed by Nintendo.
While interviewing Shigeru Miyamoto while he was in Paris promoting a 3DS Louvre tour guide, El Mundo was told that at E3 2012, "Nintendo will present a new Super Mario for this platform, in which you will combine the TV screen with the screen in the controller."
When Eurogamer asked Nintendo to confirm the report, the company responded with the following:
"In a recent interview, Mr. Miyamoto confirmed that a new Super Mario Bros. game for the Wii U system will be shown at this year's E3 Expo," a Nintendo spokesperson said. "We'll have more to announce about our plans for the E3 Expo at a later date."
In the past year, Nintendo has confirmed both New Super Mario Bros. Mii and a 2D Super Mario game for 3DS. Whether this upcoming announcement has anything to do with these games is currently unknown.