The E3 2011 demo will be a full-fledged game that will be officially revealed at E3 2012.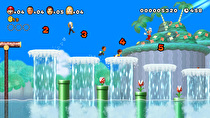 E3 2011's Mario Experience, otherwise known as New Super Mario Bros. Mii, looks to be the upcoming Mario Wii U title that Shigeru Miyamoto teased in a recent interview with the Spanish newspaper, El Mundo.
When asked to comment on Miyamoto's remarks, a spokesperson for Nintendo of America replied with, "In a recent interview, Mr. Miyamoto confirmed that a new Super Mario Bros. game for the Wii U system will be shown at this year's E3 Expo. This is based on the Mario experience that was demonstrated at last year's E3 Expo. We'll have more to announce about our plans for the E3 Expo at a later date."
New Super Mario Bros. Mii was shown as a tech demo for the Wii U during E3 2011. When shown, the game was very similar to its counterparts, New Super Mario Bros. and New Super Mario Bros. Wii; however, it included the use of Miis, as well as support for the Wii U's tablet controller.