Could Nintendo's refusal to talk real specs hurt them in the end? It has before.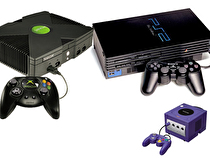 With Nintendo's honourable refusal to get drawn into the latest "Wii U isn't as powerful as current gen systems" argument, I can't help but remember the last time Nintendo was mixed up in the power game, and how terribly that ended for them.
The GameCube was the last Nintendo console to be on level ground with all its rivals; in some aspects it was "better" than the PlayStation 2 and Xbox, and in others it was "worse." I'm not for one second going to pretend I know anything of the nitty-gritty technicalities—all I can do is look at the games (Rogue Leader, Resident Evil 4, Wind Waker, etc.)
During the run up to the GameCube's release, as with the Wii U, people were desperate to know how powerful it was. Will it blow the PS2 out the water? Will it be on par with Xbox? Does it render 20 billion polygons at 50,000 gigawatts an hour?
Every other question aimed at Nintendo was concerning the speed of the processor and the power of it's graphics. People would NOT let up. Nintendo revealed the technical specs incrementally, but they were incredibly modest—to a fault.
Nintendo basically lowballed it, giving specs that, when put side-by-side with those of the PS2, looked very weak. This was made worse coupled with the fact Sony were touting their console as the second coming with the "Emotion Engine" so powerful that you "feel" the game. Renderings of human heads that were beyond those in the Final Fantasy movies—all coming to a Sony console near you! (Or not.)
By this point, the Internet had already made its mind up—the GameCube is a stupid kiddy toy with crap graphics, third in terms of power behind its rivals. It didn't matter how many times Nintendo fans went on message boards crying that X part of the GPU was in fact 33% faster than the PS2, or the Z chip was speedier than the Xbox under so-and-so conditions. The damage had been done and most people had made their minds up. Of course, if people had watched just two minutes of Rogue Leader or Wave Race: Blue Storm, all those misconceptions could have been laid to rest. However, with the system tied to games like Monkey Ball and Luigi's Mansion, it was hard to convince the haters otherwise.
So now we're here with Wii U, with some developers stating it's incredibly easy to program for, with graphics beyond PS3, while others are saying the exact opposite. Could it be they were talking about different versions of the dev kits? Possibly. Could it be that the latter were just not capable of getting the full power out the Wii U? I have no idea. Although I do find it strange that Nintendo aren't worried about helping these guys understand the system better.
The point is, the past couple of weeks have been doing untold damage to an already underwhelmed audience. Last year's E3 was a bunch of Wii Play mini-games mixed with showreels of games already available on other platforms. The hardcore crowd that Nintendo seems to want to (partially) reinvigorate are less than impressed, and are getting LESS impressed with rumours like what we've been hearing recently. So, unless Nintendo wants to start the whole downward spiral that it started and didn't even bother trying to stop during the beginning of the GameCube's life, it needs better damage control than, "It's all about the experience of play." They're saying this to people who think the Xbox controller is the best ever made and offers them the best control for the games they like. It's completely meaningless to them.
Now I for one don't care about the graphics war, but I know that many do, many of whom are unlikely to shell out $299.99 for a system that doesn't do what their current system does, especially with the possibility of new and "better" systems in 2013. It's foolish for Nintendo to think that E3 will be the be-all-end-all of revelations, something so amazing that anyone in their right mind will be blown away by. This is Nintendo—they're not going to get everything right straight out the gate. Whether it's a lacking third-party selection or a less than perfect online system, you know they're going to mess at least one thing up, so the very least they can do at this point is to lay to rest rumours that their next-gen system is less powerful than a six-year old piece of hardware. I'm not suggesting they lie or inflate specs like Sony did. Just come out tell people how it is. These conflicting statements from devs are hurting the console, and my brain.
The very fact that Nintendo doesn't get into these arguments is part of why I like them, but that's coming from a guy who's never stopped playing their games for 25 years; I'm already sold. If they want more people on board than what the GameCube had, they're going to have to step up and quash these rumours with some more "cojones" behind it, otherwise Wii U could be dead on arrival.