FIFA is coming to 3DS this fall, and it is the "best soccer game available on the Nintendo 3DS" according to EA.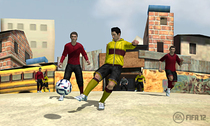 Fighting words were said in a press release today. "We are confident that [FIFA 12] will be the best soccer game available on Nintendo 3DS," said Matt Prior, producer of FIFA 12 for 3DS.
As some of you might know, Pro Evolution Soccer already laid claim to the 3DS pitch. The launch title from Konami was well received, featuring a dynamic 3D camera. It had uneven difficulty, according NWR Staffer J.P. Corbran.
FIFA 12, set for a fall release, seems a bit more ambitious than Pro Evolution Soccer 2011 3D, which seemed to be more of a tweaked PSP port. The EA Canada-developed title offers up new touch screen controls and a 3D Street Soccer mode. In total, EA boasts that the title will include eight modes, making it their biggest handheld FIFA game yet. Unlike Pro Evolution Soccer's 3DS debut, it will feature online play using the Nintendo Wi-Fi Connection.
Pro Evolution Soccer 2011 3D might be outclassed by the fall release of FIFA 2012, at least from a potential standpoint. We'll see if Konami elevates their next 3DS entry in the Pro Evolution series. We'll also have to wait to see if EA lives up to their idealistic goal of making the best soccer game on the system.