Despite previous reports, FIFA's 3DS debut won't have online.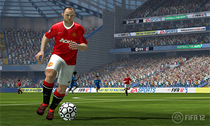 FIFA 12 on 3DS will only have local multiplayer, contrary to the game's announcement press release, which said it would have "head-to-head online matches using Nintendo Wi-Fi connection."
Producer Matt Prior said in a forthcoming Nintendo World Report interview that "Currently, we only have local head-to-head play, but server-based online is certainly something we would be looking at in the future."
FIFA 12 will also not make use of StreetPass, SpotPass, or the majority of 3DS-exclusive features. Prior is optimistic that future iterations of the game will use the features, though.
Developed by EA Canada, the game will feature more than 500 licensed clubs, and a variety of modes including 3D Street Soccer and Be A Pro. It is set for a fall 2011 release.