EA Sports is bringing FIFA to 3DS. What's the producer got to say about it?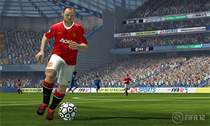 FIFA is coming to 3DS this fall, bringing with it a variety of modes, including 11-on-11, 5-on-5, and Street Soccer, which uses a curved pitch that makes use of the 3D effect in a different way than any other mode.
We performed an e-mail interview with Producer Matt Prior about FIFA 12 and its 3DS debut.
Nintendo World Report (NWR): What are your thoughts on the technology behind the 3DS? What appeals to you about it?
Matt Prior (MP): I think it's a very exciting new advancement in gaming. Traditional 3D was always limiting because of the necessity for glasses but this new technology does away with that and as a result makes it much more accessible. It sounds clichéd but it's gaming in a new dimension, and as a result, opens up new possibilities for game design. It also offers new challenges in how to design games in a way that really utilizes the 3D elements not just visually, but also in a way that changes the way you play the game.
NWR: What makes FIFA 12 on 3DS different then any other entry in the series?
MP: It's been designed specifically for the 3DS. While at its core it's FIFA, we also wanted to ensure it wasn't just a basic port so we have introduced many features that enhance the 3D and features that also utilize the unique nature of the 3DS console itself.
NWR: Outside of the portability, why would a long-time home console FIFA player want to check out FIFA 12 on 3DS?
MP: 3DS represents the most powerful handheld gaming device around with a very high level of quality and as such, this is the best handheld version of FIFA we have ever made. It's also FIFA as you have never seen it before – in 3D.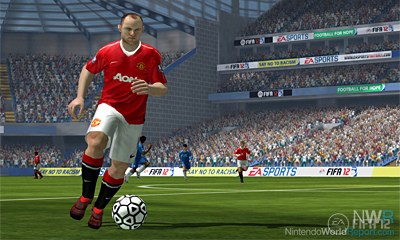 NWR: The 3D Street Soccer mode will have a curved pitch. Why is that only in that mode? And what does it add to the gameplay?
MP: We kept it to streets because we felt it fit best within the street environment. The street mode has a unique and casual feel that lends itself well to the feature. In terms of what it adds to gameplay, it's another means to enhance the 3D feel and as a result, gives users a unique FIFA experience they just can't get anywhere else.
NWR: Are there any plans to use other 3DS features (StreetPass, SpotPass, AR, gyroscope, etc.)? What kind of ideas do you have to use those features?
MP: We looked into all of these early in the development cycle, but with our first foray into FIFA on the 3DS we wanted to make sure we got the fundamentals right and focus on getting the core game solid, while at the same time innovating in key areas. We did this by developing a lot of content and modes, and revolutionizing the gameplay with unique 3DS features, which we have done with the addition of touch screen shooting. We wanted to focus on getting those things right and creating a very solid platform on which to build in the future. The exciting part about this is that there are still many 3DS features we can experiment with so yes, you can absolutely expect future features to utilize all the cool 3DS hardware.
NWR: Will the online play use Nintendo's servers or EA's, as has generally been the case with EA games on Nintendo systems? Will the online have more than just exhibition matches?
MP: Currently we only have local head-to-head play but server based online is certainly something we would be looking at in the future.
NWR: Why do you feel that FIFA 12 will be the best soccer game on 3DS? What makes it stand out from the competitors?
MP: There are many reasons. It has all the authentic content that people can expect from a FIFA game with over 500 teams, more than 50 official tournaments, and over 50 stadiums, etc. We also have a full Street mode featuring street tournaments, head-to-head local street play, and an immersive be a pro mode that starts the user out as a street player with the aim to build him all the way up to an international superstar. We have hours of gameplay through our numerous game modes that represent by far the largest feature set we have ever done on a handheld game. 11 v 11 and 5 v 5 kickoff, a complete and immersive Career Mode, be a pro mode, training, and over 50 authentic tournaments.
We have created a game uniquely for the 3DS and have implemented numerous features that enhance the 3D. We have also revolutionized gameplay with the addition of touch screen shooting. Scoring is the highest high in football and now we have given a level of control to gamers never before seen. The user can pinpoint exactly where they want to shoot and it adds a level of satisfaction and reward that we have never had up until now. All of this adds up to the best handheld game we have made and a worthy addition to the FIFA franchise.