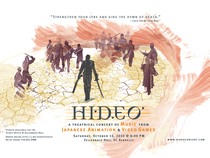 I first heard about Hideo through a flyer posted in San Francisco's Japantown (there's a good okonomiyaki place there called Mifune Don). "A Metal Gear concert?" I thought. Not Metal Gear, but the performance does feature a selection of Japanese game music. And it turned out that it will be taking place on my school campus in Berkeley.
While video game concerts have gained some popularity in the US in recent years, with Video Games Live even getting a PBS special this year, this seems to be something a little more unique. Rather than a concert simply celebrating the games, Hideo looks to take things in a different direction. Using the music not only as a backdrop, but as an inspiration, the performance features a new story. Telling the tale of the titular hero in a world where technology has crumbled, and "the sword once again commands the battlefield." Reminiscent of an J-RPG story, the narrative involves New Government Enforcers (good guys), Outlaws (bad guys), and an emerging sinister party related to the forgotten Old Gods.
The performance promises to include songs from several Final Fantasy games, Chrono Cross, Mega Man games, and Legend of Dragoon, as well as selections from anime, such as Full Metal Alchemist, and a personal favorite of mine, Noir. I'm very interested to both hear the music performance and see how they manage to it mesh with the story.
Unfortunately, it looks like at least for now, the performance is limited to a single location and time, so I know most of you won't have a chance to see it. What you can do is check out their Facebook page for some behind-the-scenes footage. For those of you who can make it to Zellerbach Hall this Saturday, the ticketing information can be found on the official website.