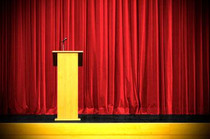 It's almost not fair: game makers don't complain about not knowing what gamers want on the other consoles. The hardest of the core audience on the XBox 360 and PS3 are very vocal about just what it is they want to spend money on, and they're over-represented in all the traditional venues, print magazines, internet haunts, or caffeinated tv channels for technology and gaming media. Game makers can simply visit these hotspots for feedback, inspiration, and a rich connection to their audience.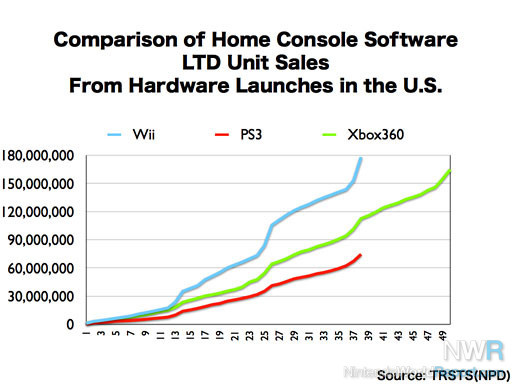 Wii owners have caught up to and surpassed the other console owner groups in the total amount of software they purchase.
But for Wii owners? We purchase more software than either of the other two console audiences, but there's no single place we've been invited to gather and there's no collective voice we've found to champion our values.
It's no wonder game makers are simply throwing games against a wall and watching to see if anything sticks. Failing to have an open dialogue, so much of what's left is guesswork. Which I guess means little or no marketing or attempt to build word of mouth. Which I guess would make things hard for a game on any system.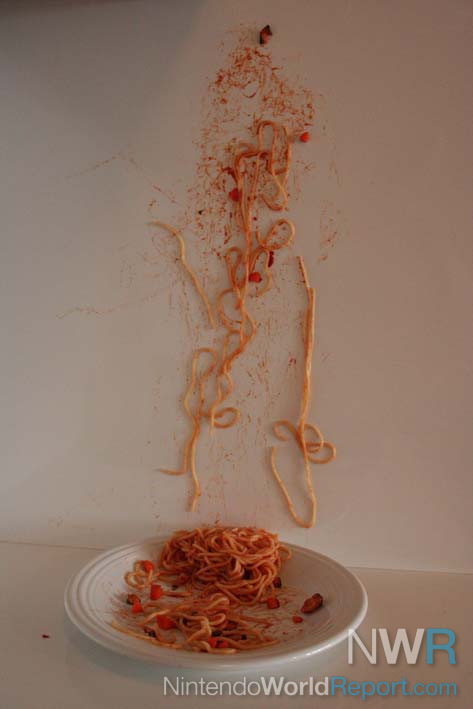 This hardly seems the best approach for making successful games.
Of course, Nintendo doesn't seem as hindered by this as everyone else. But that's not because Nintendo is a first-party. It's because Nintendo's always been trying to find out what gamers aged 2 to 92 find fun in a game. They've been doing this ever since the last time they showed the industry that gaming wasn't just a hobby for 18-25 year old males.
If only Nintendo could take the progress they've made with getting what Wii consumers really think (Nintendo Channel ratings, Club Nintendo polls, Nintendo Power) and create a unified process or channel that the majority of Wii owners can participate in. If it was quick and easy, then Wii gamers could start to relate what we've enjoyed about the games we bought, what we found meaningless or disappointing, and what we'd love to see next.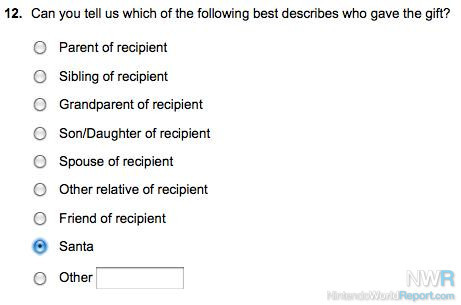 This Club Nintendo Survey for New Super Mario Bros. Wii shows that Nintendo is always keen to know the purchasing habits of its consumers... and Santa.
Without that sort of opportunity, how can Wii owners create the solidarity we need to respond to critics or the will to demand what we want from game makers? How can we create a community to educate each other, and game makers, about what's a good game and what's a bad one?
It doesn't even have to be Nintendo who brings us all together. Amazon.com can already be a more democratic and telling insight into the Wii owner's heart and mind than Metacritic. But we need something, anything, even if just one way, in which people can easily understand our joys, dreams, and trials.
Otherwise, we may be 60 million strong and growing, but no one can hear our cries.

Wii are the silent majority.