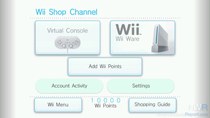 Firstly, Nintendo wrote some very catchy, very enjoyable music for their system. I can get excited for new channels just because I want to hear the accompanying music. My favorite has to be the Shop Channel music, but Everybody Votes also sounds fantastic.
In terms of control, the Wii Menu shows other developers how to design good menus for the Wii Remote. Buttons are large, the pointer accurately responds to twisting, and the very subtle rumble effect lets you know when you've passed over a button. In all seriousness, a blind person could probably navigate these menus with minimal trial and error.
I also love all the weird little touches found in the channels. Most people know about the News Channel's cat and the delightful download progress indicator in the Shop Channel. If you've downloaded enough games, you might have seen Fire Mario collecting the coins. (You can press a button to throw fireballs!) Just today, I was shocked to witness a download animation that I've never seen before. Mario and Luigi both swam across the screen while the famous water world music from Super Mario Bros. played in the background. Maybe this scene was triggered by the unusual case of there being two Remotes connected when I downloaded the game? Regardless, I was pleasantly shocked to see something new on a channel that I've been using weekly for almost two years.
My point is that Nintendo deserves some credit for going above and beyond with the aesthetics of their system menus and utility channels. I think you can take Microsoft's upcoming redesign of the Xbox 360 dashboard as a nod to the success of Wii and its user-friendly interface. Now if only Nintendo would make the menus faster and more useful...