You can still join the Splatfest even without a Switch!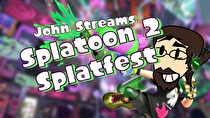 Join us tonight at 6:00 p.m. ET as we live stream the first ever Splatoon 2 Splatfest! The event should last until 10:00 p.m. ET. Better yet if you don't yet have a Switch, you can still participate in the beauty of Inkling democracy. Head over to the official Nintendo World Report Twitter account, @Nintendo_NWR, to vote on what side we take in tonight's Splatfest! Though realistically, given how bad some of our staff is at Splatoon, you might be better off voting for the opposition in order to drag them down.
Of course don't forget to subscribe to NWRTV for weekly live streams along with review, previews, features, and more!