Who has the force of LAW on their side?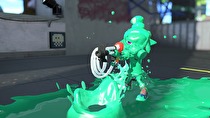 The exhibition Splatfests have wrapped ahead of Splatoon 2's release, and coming with the new game is a new scoring system. Popularity, solo battles and team battles are compared, with the winner of two of the three claiming the victory.
North America / Europe: Ice Cream 2, Cake 1 (76-24, 51-49, 47-53) Western regions shared a Splatfest, and both regions ended up sharing the results. The old formats would have resulted in a major disadvantage for Cake, but resulted in just a one-element disadvantage for the fluffy dessert team. Team Ice Cream reported a high percentage of civil wars during the session.
Japan: Rock 2, Pop 1 (52-48, 48-52, 51-49) Japan inaugurated the Splatfests with three narrow battles, and a few team matches ended up deciding the competition in favor of rock music. Despite the popularity of Marina in Western territories, Pearl's side ended up taking the first competition.
You ever lost a battle so hard that the very purpose you were fighting for is now retroactively considered ILLEGAL pic.twitter.com/7m99lbM32M

— Blue Stigma (@Axelayer) July 16, 2017