Could Nintendo's revolutionary console be getting another redesign?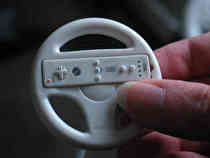 Nintendo may be releasing another Wii redesign in the near future. The information was part of an internal release schedule from a major retailer that at this time we are unable to disclose. After combing through the details we've gleaned the following information:
Introducing the Wii Mini! Coming Dec 7 2012!
WII MINI CONSOLE
Compact Nintendo Wii Console
Comes with Sensor Bar, Nunchuk and Wii Remote Plus with Jacket.
If true, this will mark the second redesign of the Wii console. The first was last year and made the console slightly smaller, removing the GameCube controller ports. How much smaller the already-petite console can get is indeed a mystery. This brings to mind similar swan-song reiterations of past Nintendo systems, such as the NES and SNES 101 redesigns and the Game Boy Micro. As soon as any new information is revealed, you can be sure we'll be here to cover it. Stay tuned.