Two tablets might not be out of the question.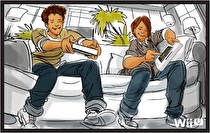 A Global TestMarket survey may have revealed new Wii U tablet functionality and a tentative $300 price tag, as reported by GoNintendo reader Porygon.
In one question on the survey, the question is asked: "How likely are you to purchase Wii U if it cost: $299.99?", potentially suggesting a general pricing range.
In addition, a series of pictures showing off gameplay, Netflix, and sports game features was revealed, and one pictures appears to show gameplay between either two Wii U tablets or a tablet and a Wii remote. If it is the former, it will be contrary to previous suspicion that only one Wii U tablet will be playable at a time.