A new trademark seems to indicate it!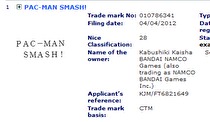 Namco Bandai has filed a trademark in Europe for a game called Pac-Man Smash, starring the company's own mascot Pac-Man. The trademark was filed on April 4, 2012.
The details regarding what the game is going to be and on what system it will appear on are very scarce at the moment. The name "Smash" seems to indicate that it might be a party game in the same manner as Pac-Man Party for the Wii and 3DS.
If the game turns out to be a reality, expect an announcement from Namco in the weeks heading to E3 2012.