But only one tangible player goes on screen.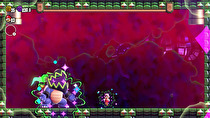 For the first time outside Super Mario Maker 2, it will be possible to have online play in a 2D Mario game.
Today's Super Mario Bros. Wonder Direct confirmed the addition of "online ghosts" to the game, which can be used both in a cooperative and competitive fashion. The ghosts can be used to revive a player who is about to lose a life from enemy contact (similar to the bubble function in the New games, but on a five-second countdown), or can enter into races to complete an objective. The former function can also be used with "Standees" of the chosen character, which are purchased ingame using the purple diamond coins shown in early footage.
Other details including the playable characters in the game (a Mario record even only counting two Toads for one) and the new power-ups can be seen in the archive.