EA Sports returns to console baseball with the help of Metalhead Software for the latest Super Mega Baseball game.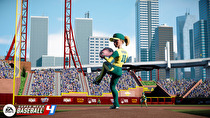 Super Mega Baseball 4 is coming to Nintendo Switch (among other platforms) on June 2. The first new entry in the series since 2020, this is also the first game developer Metalhead Software is releasing with their new owner, publisher EA Sports.
The fourth release in the sports series will be the first to feature any kind of real-life players, headlined by cover athlete David Ortiz. In total, Super Mega Baseball 4 will feature more than 200 "legendary baseball professionals" (they did not actually get the MLB license it seems) including Ortiz, Jose Bautista, Hank Aaron, and Babe Ruth. The legends will be split up into teams by era and also can be put into the new Shuffle Draft mode where you can mix and match players from the pool of Legends and the classic Super Mega Baseball players like Hammer Longballo and Muffin Studwick.
Beyond the legends, Metalhead is promising a slew of other updates and upgrades, including expanded player traits, a new team chemistry system, automatic walks, two-way players, expanded bullpens, and much more. The visuals will also see a boost, though we cannot tell yet how much that will impact the Switch version since the provided screenshots appear to be based on the PlayStation 5 and Xbox Series X versions. However, all versions of the game will feature cross-play.