The debut of the month didn't chart, but hey... you asked about something from February?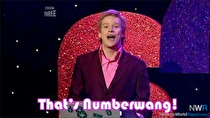 Although the PlayStation 5 is still leading hardware, the Switch bounced back a bit in software with a surprising top 20 debut.
All figures based on revenue from February 26 - April 1 unless noted, third parties can contribute digital sales to the survey.
For the third consecutive month, the Switch trailed the PlayStation 5 in both dollar (due to higher price) and unit sales in hardware, though no figures were provided.
Software saw four first party games in the top 20 compared to 3 in the February survey, although the March 17 launch of Bayonetta Origins: Cereza and the Lost Demon was not among them. Mario Kart 8 Deluxe was #10, Pokemon Scarlet and Violet retained 14th, and the first full month of Kirby's Return to Dream Land Deluxe held on in 16th (after debuting in 15th last month). The surprise was Metroid Prime Remastered - a $40 game - placing 13th in the survey. It was noted that it finished 21st in February's survey with only four days charted.
Third parties on Switch were led by MLB The Show 23 in 3rd place, with FIFA 23 in 6th, Minecraft 11th, Octopath Traveler 2 retaining 12th, NBA 2k23 getting into the play-in with an 18th place finish, the embattled Sonic Frontiers in 19th, and LEGO Star Wars: The Skywalker Saga rounding out the top 20.
April's chart would have the opening nine days of Advance Wars 1+2 Reboot Camp, the opening two days of sale for the Tears of the Kingdom-branded Switch OLED, and any Mario halo effects caused by the runaway success of the Super Mario Bros movie.