All the stuff that can't be downloaded today in one spot.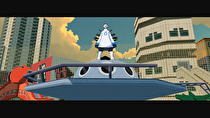 The other announcements from a busy Indie World presentation:
An update for Cult of the Lamb, 2022's most blasphemous simulation, will be available on Monday (April 24). Known as the "Relics of the Old Faith" update, it adds new modes, quests, building options, and dungeon designs to the game.
A DLC for Shovel Knight: Pocket Dungeon (the "Puzzler's Pack") will launch in spring with new characters and dungeons.
Crime mystery adventure Crime O'Clock has rung up a June 30 launch.
Lo-fi puzzler A Little To The Left will release its "Cupboards and Drawers" DLC in June with 25 new puzzles and new environments.
After its reveal in a prior Indie World, the long-awaited for consoles Oxenfree II: Lost Signals has found a July 12 release and a publishing deal with Netflix.
Another Indie World veteran, Bomb Rush Cyber Funk also nailed down a launch date of August 18.
Paper Trail*, a new puzzle adventure which involves rotating the entire world, is targeting August for launch.
Blasphemous 2, the previously-announced sequel to the roguelike platformer, will be available in summer.
Also joining it in summer is another RPG sequel in My Time at Sandrock.
A crypt will open on September 5 with the release of Chants of Sennaar, which promises endless dungeons to explore.
The long-awaited Mineko's Night Market will finally bring its commerce to Switch on September 26.
The roguelike action of PlateUp! looks to be out of the oven in October.
A complete edition of Escape Academy* will be available on Switch in the fall.
An adaptation of the popular board game Calico called Quilts & Cats Of Calico will snuggle up this fall.
Animal Well, an exploration game with a pixel art style, will land in "winter".
The developers of Crypt of the Necrodancer have revealed that Rift of the Necrodancer - a more action focused rhythm game (think Rhythm Heaven) will be available sometime this year.
Joining Rift in the "2023" club is Brotato, a twin-stick roguelite in which a potato can somehow wield six guns at once.
Open world exploration as a feline is the order of the day in Little Kitty, Big City which is due in 2024.
* Nintendo World Report contributor Syrenne McNulty has a relationship with the game: her current employer invested into Paper Trail, and she is a producer on Escape Academy.