Guess featuring it in a mid movie was enough to put it over the top.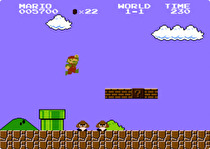 The Library of Congress has inducted the first video game song into the National Recording Registry, and it was probably the most obvious selection.
In a release today, the "Ground Theme" (aka the 1-1 Theme) from the original Super Mario Bros was announced as joining the registry of famous recordings (which does not require the work to be produced in the United States, as Koji Kondo is credited as the composer). The most famous of Mario songs joins Madonna's 1984 hit album "Like a Virgin", "All I Want For Christmas Is You" by Mariah Carey, and Queen Latifah's debut album "All Hail The Queen" among the group of 25 inductees. (The full list is on the Library of Congress's site.)
The LoC's entry on the Super Mario music is below:
Perhaps the most recogizable video game theme in history, Koji Kondo's main motif for the 1985 Nintendo classic, Super Mario Bros., helped establish the game's legendary status and proved that the five-channel Nintendo Entertainment System (NES) sound chip was capable of vast musical complexity and creativity. The game's main theme, or "Ground Theme," is a jaunty, Latin-influenced melody that provides the perfect accompaniment to Mario and Luigi's side scrolling hijinks. Kondo's score laid the groundwork for an entire generation of chiptune musicians and has been performed by orchestras around the globe, befitting its status as one of the most beloved musical compositions of the last 40 years.
This story was updated to correct an erroneous reference made in the Library of Congress statement - 13 April 2023