Now you can try the earliest adventures of the Umbral Witch.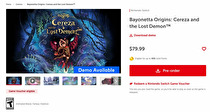 Those on the fence about Bayonetta Origins now have the opportunity to try it without buying Bayonetta 3.
A demo is now available for the March 17 release in all regions; it is not yet known how much of the game is included in the demo, but progress in the demo can be brought into the final product.
Bayonetta Origins: Cereza and the Lost Demon will be out a week from Friday.