You'll need a credit/iTunes/Play card to ride this train.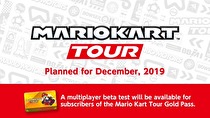 One major announcement has already emerged from Nintendo's Q2 shareholder briefing.
Mario Kart Tour will be adding multiplayer, with a beta test for the mode starting in December. It will only be available to holders of the US$5/month Gold Pass to begin with.
Although no specific figures were cited in the presentation, both downloads and active users are "both trending at the highest levels ever among our mobile applications".