In which the author frets at the 44% of you who don't know how to count.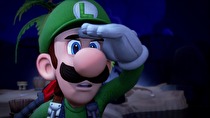 You seem kind of down lately.
Well, there's 44% of a reason why...
Since this is apparently a thing now, fill in the blank: Terry Bogard is the (blank) Smash DLC fighter.

(Then watch our video for the answer: https://t.co/KFoBeVrBnm)

— Nintendo World Report (@Nintendo_NWR) October 26, 2019
OK, setting aside the Nintendo crazification factor, what do we have for this Halloween week?
The horror is out in force with Luigi's Mansion 3 (review forthcoming), Vampyr, and Resident Evil 5, with a certain version of horror allowing for Super Monkey Ball: Banana Blitz. Disgaea 4 Complete+ brings the funny vampires with a side of strategy RPG, and there's a whimsy to Ghost Parade.
We need some more whimsy, though.
I was a big fan of Harvest Moon: Mad Dash at E3, so that'll bring a few marriages together. And there's a new Atelier game that seemed quite popular across the Pacific, so we'll have to get that to our review committee forthwith.
North America
Switch Retail
Luigi's Mansion 3 (US$59.99/C$79.99)
Atelier Ryza: Ever Darkness & The Secret Hideout ($59.99/$75.59: Tuesday)
Vampyr ($49.99/$64.99: Tuesday)
Disgaea 4 Complete+ ($49.99/$62.99: Tuesday)
Super Monkey Ball Banana Blitz HD ($39.99/$54.99: Tuesday)
Dusk Diver ($39.99/$50.39: Tuesday)
Ghost Parade ($39.99/$50.39)
Race With Ryan ($39.99/$49.99: Friday)
Disney Classic Games: Aladdin & The Lion King ($29.99/$37.79: Tuesday)
Harvest Moon: Mad Dash ($29.99/$36.99: Tuesday)
Switch eShop
Mountain Rescue Simulator ($39.99/$50.39: Monday)
Resident Evil 5 ($29.99/$39.99: Tuesday)
Resident Evil 6 ($29.99/$39.99: Tuesday)
Close to the Sun ($29.99/$37.79: Tuesday)
Earthfall: Alien Horde ($19.99/$26.00: Tuesday)
Xeno Crisis ($19.99/$25.99: Monday)
The Wardrobe: Even Better Edition ($19.99/$25.19)
Sky Gamblers: Storm Raiders 2 ($19.99/$25.19)
Door Kickers: Action Squad ($14.99/$18.89: Monday)
Spaceland ($14.99/$18.89: Wednesday)
Yuri ($13.99/$17.99)
Truck Simulator USA ($13.99: Friday)
Flan ($9.99/$12.59)
Polyroll ($9.99/$12.59: Tuesday)
Windmill Kings ($9.99/$11.99: Friday)
Otokomizu ($9.00/$11.34)
The Mims Beginning ($8.99/$11.33: Friday)
Spirit Roots ($6.99/$8.81: Friday)
Mononoke Slashdown ($6.99/$8.81)
Delta Squad ($5.99/$6.99: Friday)
Twister Road ($4.99/$6.29: Friday)
The Big Journey ($4.99/$5.99)
Thoth ($4.99/$5.99: Tuesday)
140 ($4.99/$5.99: Tuesday)
Perseverance ($4.99/$5.99: Friday)
64.0 ($2.99/$3.80)
Switch Archives
Mr Goemon ($7.99/$9.87)
Demos and Trials
Ai: The Somnium Files
Sales and Price Drops
Highlights: Torchlight II is on sale until Wednesday, the SteamWorld series is on sale until November 3. Spreadsheet
Europe
Switch Retail
Luigi's Mansion 3 (€59.99/£49.99)
Atelier Ryza: Ever Darkness & The Secret Hideout (€59.99/£49.99: Friday)
Vampyr (€49.99/£44.99: Tuesday)
Disgaea 4 Complete+ (€49.99/£44.99: Tuesday)
Super Monkey Ball Banana Blitz HD (€39.99/£34.99: Tuesday)
Ghost Parade (€39.99/£34.99)
Race With Ryan (€39.99/£34.99: Friday)
Disney Classic Games: Aladdin & The Lion King (€34.99/£31.49: Tuesday)
Harvest Moon: Mad Dash (€26.99/£23.99: Tuesday)
Switch eShop
Mountain Rescue Simulator (€39.99/£35.99: Monday)
Resident Evil 5 (€29.99/£29.99: Tuesday)
Resident Evil 6 (€29.99/£29.99: Tuesday)
Close to the Sun (€29.99/£24.99: Tuesday)
Sky Gamblers: Storm Raiders 2 (€19.99/£17.99: Wednesday)
Earthfall: Alien Horde (€17.99/£17.99: Tuesday)
Xeno Crisis (€17.99/£15.99: Sunday)
Door Kickers: Action Squad (€14.99/£13.49: Sunday)
Spaceland (€14.99/£13.99: Wednesday)
Yuri (€12.49/£10.99)
Windmill Kings (€9.99/£8.99: Friday)
Flan (€9.99/£8.99)
Windmill Kings (€9.99/£8.99: Friday)
Polyroll (€8.99/£8.09)
Otokomizu (€8.00/£7.19: Wednesday)
The Mims Beginning (€7.99/£7.19: Friday)
Spirit Roots (€6.99/£6.29: Friday)
Mononoke Slashdown (€6.99/£6.29)
Desktop Dodgeball (€6.81/£6.07)
Delta Squad (€5.99/£5.99: Friday)
Twister Road (€4.99/£4.49: Friday)
The Big Journey (€4.99/£4.49)
Perseverance (€4.99/£4.49: Friday)
64 (€2.69/£2.40)
Switch Archives
Mr Goemon (€6.99/£6.29)
Japan
Divinity Original Sin 2: Definitive Edition (¥7722)
Model Debut Nicola (¥6900: Friday)
Mario & Sonic at the Olympic Games Tokyo 2020 (¥6589: Friday)
Luigi's Mansion 3 (¥6578)
FIA European Truck Championship (¥5720)
Disgaea 4 Complete+ (¥5478)
Sniper Elite V2 Remastered (¥4818)
Giga Wrecker Alt (¥3850)
Biohazard 5 (¥3300)
Biohazard 6 (¥3300)
Super Monkey Ball Banana Blitz HD (¥3289)
Sky Gamblers: Storm Raiders 2 (¥2100)
Woodle Tree 2: Deluxe (¥1550)
Door Kickers: Action Squad (¥1500)
Yuri (¥1490)
Asdivine Kamura (¥1320)
Polyroll (¥1050)
Flan (¥1000)
Taka no Tsume VS Hae no Hane Dan (¥999)
Shinobi (¥999)
Otokomizu (¥980)
Mr Goemon (¥838)
Mononoke Slashdown (¥800)
Knives Out (free: Friday)