A big week for House Rairdin.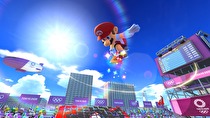 So this is pretty much a week off for you before the Poke-storm next week, huh.
Not really: I mean, Mario Mario's Pro Skater (featuring other sports) is out Tuesday, and there's a Layton game out on Friday so I'll still have a lot to backlog. But yeah, John and his SO are the big winners this week with New Super Lucky's Tale and Disney Tsum Tsum Festival.
Wait, what about the Wii game coming out this week?
Not valid for this column, fool. Look at the small stuff, though: Tokyo Dark - Remembrance is an intriguing visual novel, and Monkey Barrels is developed by the fabric specialists at Good Feel. Just so you know though, Football Game is an adventure game and not that thing allegedly played on Sundays.
And Japan gets... Groove Coaster.
If only we could be so lucky.
North America
Switch Retail
Mario & Sonic at the Olympic Games Tokyo 2020 (US$59.99/C$79.99: Tuesday)
Disney Tsum Tsum Festival ($49.99/$64.99: Friday)
Super Street Racer ($49.99/$62.99)
Just Dance 2020 ($39.99/$49.99: Tuesday)
Jumanji: The Video Game ($39.99/$50.39: Friday)
New Super Lucky's Tale ($39.99/$49.99: Friday)
Layton's Mysterious Journey: Katrielle and the Millionaire's Conspiracy Deluxe Edition ($39.99/$49.99: Friday)
Garfield Kart Furious Racing ($29.99/$39.99: Tuesday)
Switch eShop
The Grisaia Trilogy ($59.99/$75.59)
Lord of the Rings: Adventure Card Game ($24.99/$31.49: Tuesday)
Construction Simulator 2 US ($19.99/$25.99: Tuesday)
The Stretchers ($19.99/$25.19: Friday)
Tokyo Dark - Remembrance ($19.99/$25.19)
Skybolt Zach ($19.99/$25.19)
Ritual: Crown of Horns ($19.99/$24.99)
Asdivine Kamura ($14.99/$20.99)
Monkey Barrels ($14.99/$19.99)
Headsnatchers ($14.99/$18.99)
Juicy Realm ($14.99/$18.89)
Incredible Mandy ($14.99/$18.89)
The Manga Works ($14/$17.64)
Ships ($13.99/$17.63: Tuesday)
Stay Cool Kobayashi-San!: A River City Ransom Story ($13.99/$17.63)
Sturmwind EX ($12.99/$16.37: Friday)
Strange Telephone ($9.99/$12.59)
House of Golf ($9.99/$12.59: Friday)
Animus: Harbinger ($7.99/$10.99)
Blindy ($7.99/$10.07: Friday)
REKT: High Octane Stunts ($5.99/$7,49: Friday)
Rally Road ($4.99/$6.29: Friday)
Meanders ($4.99/$5.99)
Football Game ($4.99/$5.99: Friday)
One Person Story ($2.99/$3.77: Friday)
puzzlement ($1.99/$2.5)
Switch Archives
TNK III ($7.99/$9.87)
Sales and Price Drops
Highlights: XSEED's 15th anniversary sale, including Burger Time Party, is on sale until Thursday, and Capcom titles are on sale until Tuesday. Spreadsheet
Europe
Switch Retail
Mario & Sonic at the Olympic Games Tokyo 2020 (€59.99/£49.99: Friday)
Just Dance 2020 (€59.99/£49.99: Tuesday)
Disney Tsum Tsum Festival (€49.99/£44.99: Friday)
Super Street Racer (€44.99/£40.49)
New Super Lucky's Tale (€39.99/£35.99: Friday)
Jumanji: The Video Game (€39.99/£34.99)
Layton's Mysterious Journey: Katrielle and the Millionaire's Conspiracy Deluxe Edition (€39.99/£34.99: Friday)
Garfield Kart Furious Racing (€29.99/£26.99)
Switch eShop
The Grisaia Trilogy (€59.99/£53.99)
Lord of the Rings: Adventure Card Game (€24.99/£22.49: Tuesday)
Construction Simulator 2 US (€19.99/£17.99: Wedmesday)
Skybolt Zach (€19.99/£17.99)
The Stretchers (€19.99/£17.99: Friday)
Ritual: Crown of Horns (€19.99/£17.99)
Tokyo Dark - Remembrance (€17.99/£16.19)
Asdivine Kamura (€14.99/£13.49)
Headsnatchers (€14.99/£13.49)
Juicy Realm (€14.99/£13.49)
Incredible Mandy (€14.99/£13.49)
Monkey Barrels (€14/£11.99)
The Manga Works (€13/£11.69)
Ships (€12.99/£11.69: Tuesday)
Sturmwind EX (€12.99/£11.69: Friday)
Stay Cool Kobayashi-San!: A River City Ransom Story (€12.79/£11.49: Wednesday)
House of Golf (€9.99/£8.99: Friday)
Strange Telephone (€8.99/£8.09: Wednesday)
Haunted: Halloween '86 (€8.99/£8)
Animus: Harbinger (€7.99/£7.99)
Blindy (€6.99/£6.29: Friday)
REKT: High Octane Stunts (€5.99/£5.39: Friday)
Football Game (€4.99/£4.99: Friday)
Rally Road (€4.99/£4.49: Friday)
Meanders (€4.99/£4.49)
One Person Story (€2.99/£2.69: Friday)
puzzlement (€1.99/£1.79)
Switch Archives
TNK III (€6.99/£6.29)
Japan
The Grisaia Trilogy (¥6900)
Groove Coaster Wai Wai Party (¥6500)
Eiga Sumikko Gurashi (¥5260)
New Super Lucky's Tale (¥4900)
Doukoku Soshite (¥3980)
Stranded Sails: Explorers of the Cursed Islands (¥2570)
Blade II: The Return of Evil (¥2500)
Construction Simulator 2 US (¥2349)
Your Toy (¥2299)
The Stretchers (¥2000)
Tokyo Dark - Remembrance (¥1800)
Super Dodgeball Beats (¥1600)
The Manga Works (¥1500)
Monkey Barrels (¥1500)
Stay Cool Kobayashi-San!: A River City Ransom Story (¥1500)
Old School Musical (¥1280)
Guns of Mercy (¥1200)
Juicy Realm (¥1200)
PictoQuest (¥1080)
Strange Telephone (¥980)
TNK III (¥838)